Happy 2023!  I hope this year is full of happiness, health and prosperity!
I'm excited for this new year and all it has to offer when it comes to doing what I love, singing and performing.
Here are some upconing show dates:
SUNDAY, JANUARY 29th, 7pm - Herb Alpert's Vibrato - Julian Miranda presents SINGERS LA with a special tribute to Melissa Manchester as she is being honored by gwen, global women's empowerment network.  The show has an amazing line up of fantastic singers and musicians and is not to be missed. For tickets, click HERE
FRIDAY, FEBRUARY 10th, 6pm - BIshop Amat Memorial High School Performing Arts presents ALUMNI CABARET.  LIsa is thrilled to be hosting and singing in a special evening of music as Amat alum come back to share their talents as they celebrate the opening of the new Performing Arts Center.  Tickets are free and available HERE
Stay tuned for more concert dates as they become available.
Thank you all so much for your support!
It's Gonna Be a Hot, Hot Christmas - Click on video to watch
NEW NEWS:
Big thanks to VoyageLA for inviting me to share my creative journey. You can check out the article here: Lisa Donahey: VoyageLA Article
11/21/20 - Don't miss your shot and check out my silly video "Vaccine." It's my homage to Dolly Parton and her generous contribution to helping fund the Covid vaccine.
11/24/20 - Thank you SHOUT OUT LA for sharing my story: CHECK IT OUT!
---
To stay updated on all my live gigs and musical ventures, be sure to follow me on REVERBNATION by CLICKING HERE.  Thank you so much for the support!
Be sure to check out my albums on my MUSIC or BUY page.  Something for everyone!  Physical CD's and Digital downloads available.
Join my Email List for exclusive and special info and offers!
Be sure to pick up "Christmas in Our Soul" for yourself and those you love this holiday!  
Music makes a festive stocking stuffer!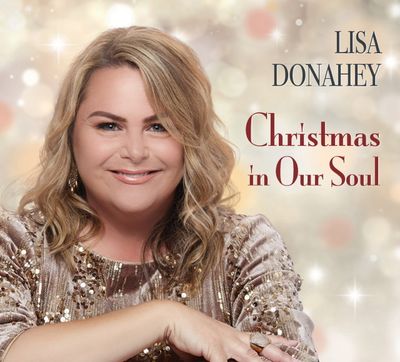 "Christmas in Our Soul" VIDEO. Enjoy and share!
Who's ready for a HOT, HOT Christmas?  
To find out more about Lisa's Holiday album CHRISTMAS IN OUR SOUL, check out the video...
---
LET IT GO MUSIC VIDEO!    Enjoy Lisa's cover "Let It Go" from Disney's FROZEN and her new music video on YOUTUBE.  Be sure to SUBSCRIBE to Lisa's YouTube Channel for monthly updates!
LISA AS THE LUNCH LADY! Watch It! Enjoy It! Share It! It's got sizzle!  --> Be sure to SUBSCRIBE to Lisa's YouTube Channel! 
Thanks for watching and supporting!