Happy 2023!  I hope this year is full of happiness, health and prosperity!
I'm excited for this new year and all it has to offer when it comes to doing what I love, singing and performing.
Here are some upconing show dates:
SATURDAY, JULY 8 - SONGS IN THE KEY OF SHE, The Write-Off Room, Studio City
Stepping into the spotlight with an all-star band are versatile chanteuses Lisa Donahey, Wendy Hinkle Taquino, Fredericka Meek and Sarah Stallman. These talented women will spend this special night sharing the stage performing songs that have influenced them as vocalists. Each will bring their impeccable and interpretive vocal and musical styles to this new show and will tap into each of their musical passions with everything from pop, R&B, rock, the Great American Songbook, classic standards and jazz. The night will be a celebration of the sisterhood they share in song.  
All Tickets $35  LINK TO TICKETS - Doors open 7pm / Show 8pm PDT
Check out Lisa's CALENDAR section for more info.
Stay tuned for more concert dates as they become available.
Thank you all so much for your support!
It's Gonna Be a Hot, Hot Christmas - Click on video to watch
NEW NEWS:
Big thanks to VoyageLA for inviting me to share my creative journey. You can check out the article here: Lisa Donahey: VoyageLA Article
11/21/20 - Don't miss your shot and check out my silly video "Vaccine." It's my homage to Dolly Parton and her generous contribution to helping fund the Covid vaccine.
11/24/20 - Thank you SHOUT OUT LA for sharing my story: CHECK IT OUT!
---
To stay updated on all my live gigs and musical ventures, be sure to follow me on REVERBNATION by CLICKING HERE.  Thank you so much for the support!
Be sure to check out my albums on my MUSIC or BUY page.  Something for everyone!  Physical CD's and Digital downloads available.
Join my Email List for exclusive and special info and offers!
Be sure to pick up "Christmas in Our Soul" for yourself and those you love this holiday!  
Music makes a festive stocking stuffer!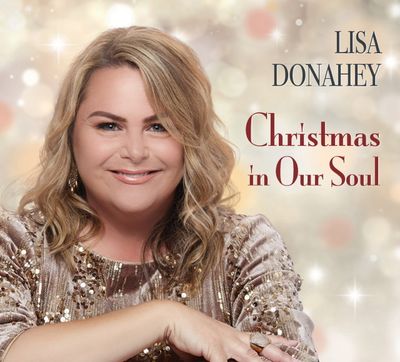 "Christmas in Our Soul" VIDEO. Enjoy and share!
Who's ready for a HOT, HOT Christmas?  
To find out more about Lisa's Holiday album CHRISTMAS IN OUR SOUL, check out the video...
---
LET IT GO MUSIC VIDEO!    Enjoy Lisa's cover "Let It Go" from Disney's FROZEN and her new music video on YOUTUBE.  Be sure to SUBSCRIBE to Lisa's YouTube Channel for monthly updates!
LISA AS THE LUNCH LADY! Watch It! Enjoy It! Share It! It's got sizzle!  --> Be sure to SUBSCRIBE to Lisa's YouTube Channel! 
Thanks for watching and supporting!